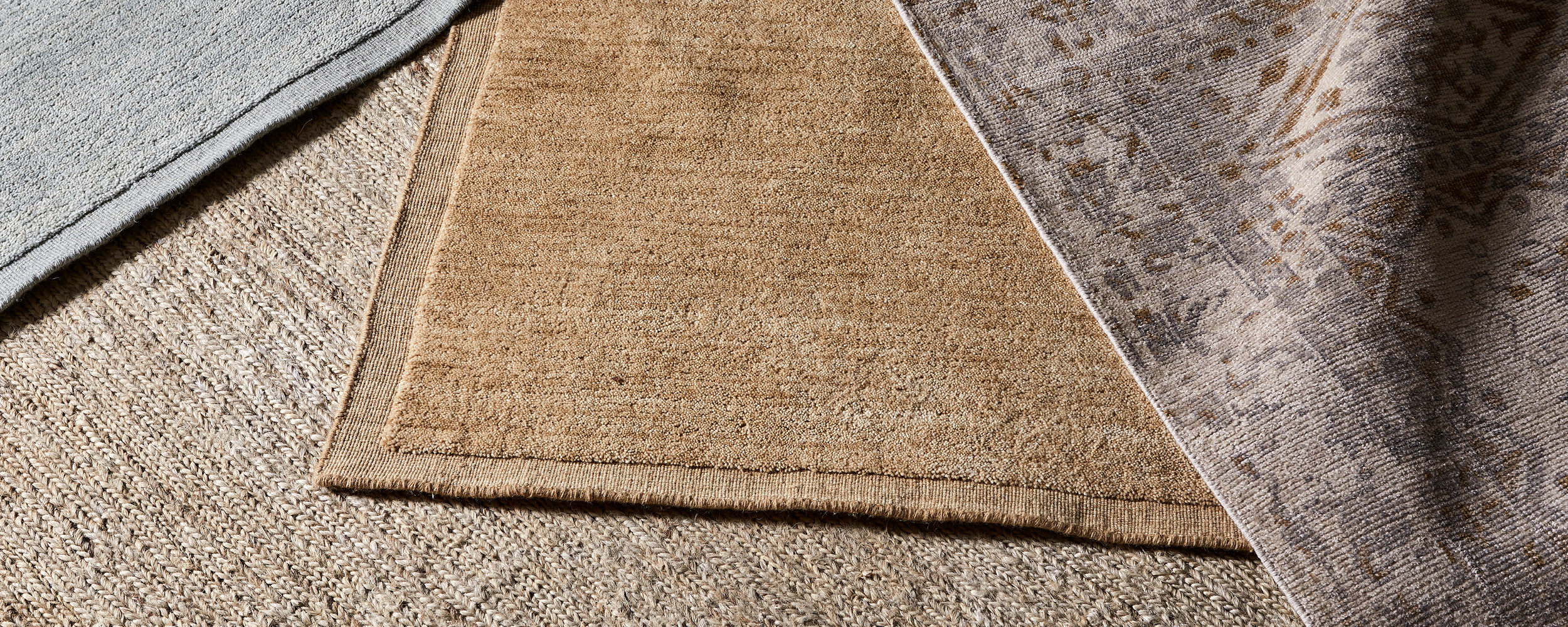 How to care for your rug.
Our rugs have been expertly hand-crafted by skilled artisans, woven using various techniques including intricate hand-knotting, tufting and weaving on both looms and by hand. Our rugs use an interlaced variety of natural and synthetic fibers, offering a range of textures, comforts and durabilities.
General Care
Vacuum weekly and more frequently in high-traffic areas, changing the vacuum direction regularly. Do not use a rotating or brush head of a vacuum as this will agitate the pile.
Avoid rug placement in direct and continuous sunlight as this may fade the rugs natural fibres over time.
Clean spills immediately. Absorb spills with a clean dry cloth or paper towel to absorb excess moisture before using a clean, damp cloth to dab and blot the affected area. Do not rub or scrub the rug.
Do not use soap, bleach, or hard chemicals to clean spills as this may further damage your rug. Avoid saturating rugs with water when cleaning spills.
Over time, a build-up of natural dirt and debris can result in a rug looking dull, despite regular vacuuming. This type of soiling will not respond to water alone. Please refer to a professional cleaner to assist with these stains for the best result.
Rotate your rug often to distribute wear evenly.
Use furniture pads under heavy furniture and avoid rollers or castors on rugs to prevent flattening or damaging the rug pile.
Annual professional cleaning is suggested to ensure the long life of your rug. If a rug is placed in a high-traffic area, professional cleaning is suggested every 6 months.
We recommend using an anti-slip rug underlay for extra softness and to minimize rug movement.
Focused Care
Along with general care and maintenance guidelines, each fiber has unique characteristics and care requirements that should be considered. Please follow these additional guidelines to ensure the longevity of your rug.
Wool
Shedding is a natural characteristic of wool rugs and is not considered a fault. Vacuuming your rug regularly will gradually reduce the amount of shedding.
Gently push yarns back into the rug, do not pull or cut loose threads.
Viscose & Bamboo Silk
Viscose rugs are highly absorbent. Avoid saturating rugs with water when cleaning spills. If rugs are exposed to a large water spillage, blot and dry as much as possible then turn the rug upside down to dry to prevent water permeating the fibers.
Jute
Jute rugs are constructed from natural fibers and should never be placed in outdoor or alfresco environments.
Do not use rug or spot cleaners as this may stain or discolour the natural colouring of the jute rug. Instead, use water or a mild detergent to dab and blot the affected area.
Outdoor Rugs (PET)
Avoid exposure to heavy rain. If rugs become saturated with water, they must be hung to completely dry. If not dried properly, rug fibers can deteriorate more rapidly over time.
Rotate your rug often to distribute wear evenly.
Rugs should be completely clean and dry before storage. If normally installed outdoor, we recommend storing PET rugs in the winter months or during severe weather.
Avoid excess scrubbing as this can cause fuzzing and piling of the fibres. Do not machine wash or dry.
Storing your Rug
Rugs should be completely clean and dry before storing.
Store rugs rolled with the pile facing inwards and wrapped in plastic or a sheet to protect against dust and dirt. Do not fold your rugs for storage.
Store rugs in a cool dry area.
Avoid storing rugs standing up and for extended periods of time.
Important Considerations
Speak with your Designer to ensure the products selected are suitable for your specific environment as well as discuss the level of maintenance that will be needed.
As these items are hand-woven using artisanal techniques, every product is unique. A 3-5% variation is possible from dimensions ordered and are deemed acceptable.
As each rug is unique and made from predominantly natural fibers, minor colour variation from rug to rug is normal.
As our rugs are predominantly made from natural fibers and are tightly packaged & protected for shipping, on occasion the inherent scents of the natural materials can be concentrated during transport. Upon unpack & installation and with exposure to fresh air, any odor should dissipate.
Yarn pop-ups may occur and are considered an acceptable characteristic of handcrafted rugs. These yarns can be pushed back into the structure of rug.
Avoid excess exposure to direct sunlight. Direct UV light can fade rug fibers overtime. Ensure to rotate your rug regularly to distribute wear and light exposure.
As rugs are rolled and tightly packaged & protected for shipping and delivered in the same format, some creasing may appear in the rug on initial installation. Once a rug is rolled out and vacuumed, the creases should disappear. We recommend reverse rolling your rug to help expedite this process.
Resources
More Product Care